16. April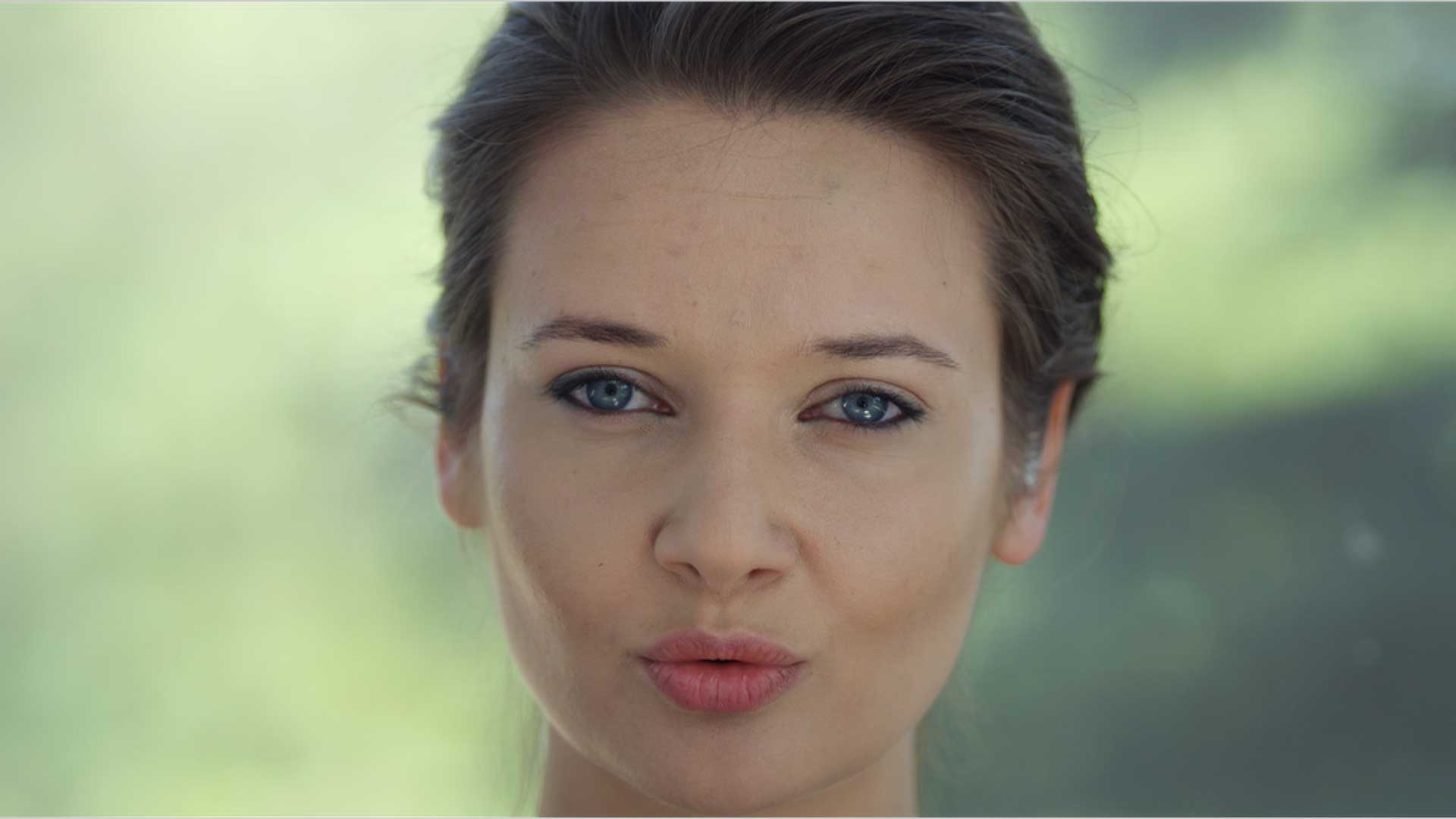 AAA (Mein Herz)
Katarina Zdjelar, 4' 30'', 2016
AAA (Mein Herz) Recorded entirely in 1 take, 4 different compositions (simultaneously yet interchangeably) are performed as one by a young woman. With an intention of keeping the original style, tempo, rhythm of individual compositions intact, the performer takes a vocal walk through them. Oscillating between and clashing silence, music, sounds and words, there is a sense of continuity established on ruptures and breaks. The performer's face and her vocal cords become a site and a battlefield of these meetings, while each cut serves as an escape and an entry.
RS
AAA (Mein Herz) / AAA (Moje srce) - U potpunosti snimljena u jednom kadru, mlada žena izvodi četiri različite kompozicije (istovremeno, a opet naizmenično). U nameri da zadrži izvorni stil, tempo i ritam pojedinih kompozicija netaknutim, performerka vokalno šeta kroz njih. Oscilirajući između i sukobljavajući se sa tišinom, muzikom, zvucima i rečima, stvara se osećaj kontinuiteta uspostavljen na rupturama i prekidima. Lice performerke i njene glasne žice postaju mesto i bojno polje ovih susreta, dok svaki rez služi kao bekstvo i kao ulaz.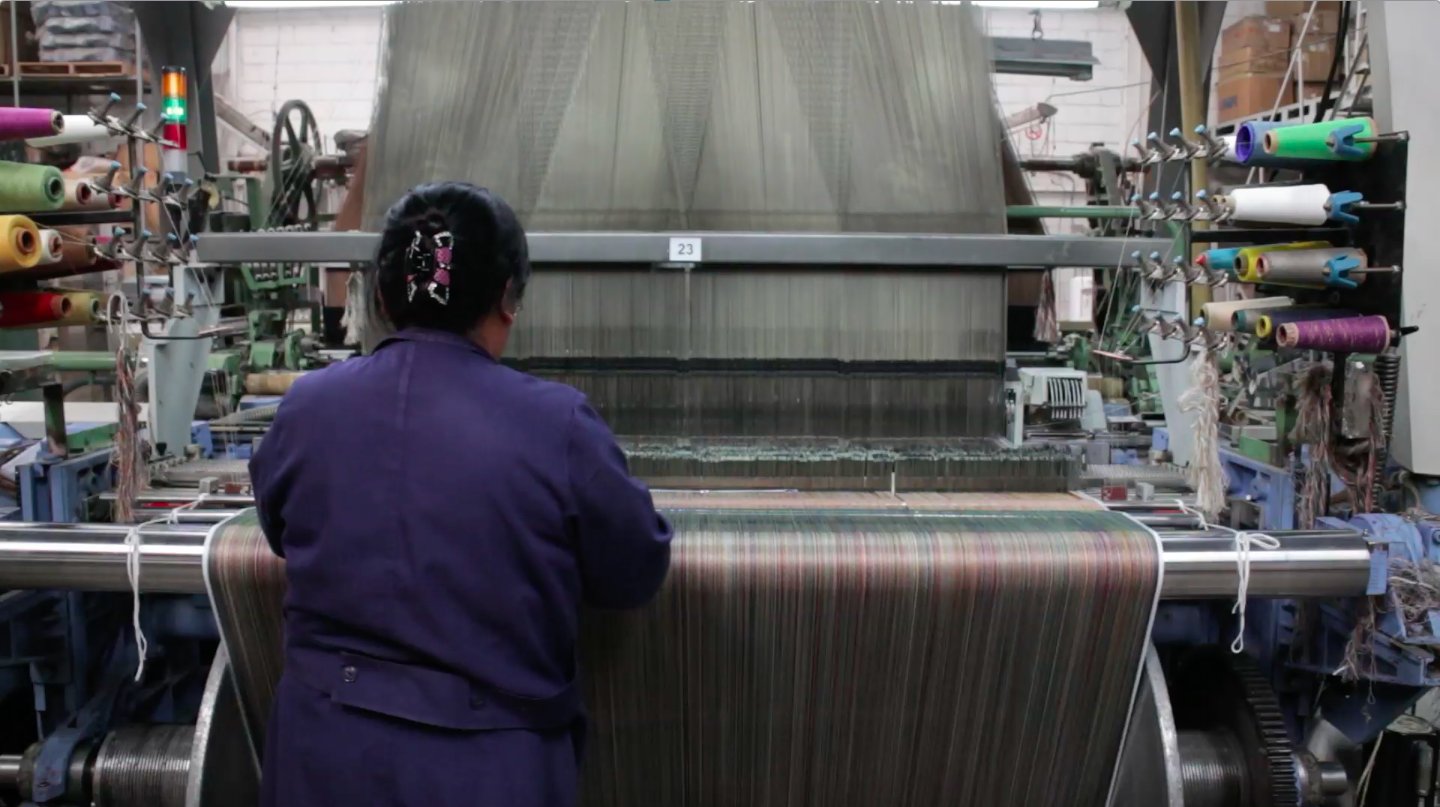 La imagen perteneceal pueblo
Bárbara Palomino Ruiz, 8', 2016
La imagen pertenece al pueblo, was inspired by the automatic production of an iconic series, which exposes the veneration of the image as an artifact. It is a video documentary filmed in a textile factory in Mexico City in which the artist, focuses on the weaving production of the image of the Virgin of Guadalupe, a national emblem and controversial symbol to express Mexicanismo. The image of the Virgin of Guadalupe is part of the popular culture of Mexico and can be found reproduced, recycled and reappropriated in mugs, t-shirts, mural, posters and, as we discovered in this film, also converted in multiple devotional tapestries. Installed in a textile grid the image of Guadalupe becomes a tight unit of identical images, giving the impression that it could be extended almost endlessly. La imagen pertenece al pueblo reflects not only about the legend and superstitious regard to an image but also, and perhaps primarily, about the time involved in the textile production and the relation between humans and machines, magic and technology.
RS
La imagen pertenece al pueblo / Slika pripada narodu inspirisan je automatizovanom produkcijom serije ikona, koja razotkriva obožavanje slike kao artefakta. Reč je o video dokumentarcu snimljenom u fabrici tekstila u Meksiko Sitiju u kojem se umetnik fokusira na proizvodnju tapiserije Bogorodice od Gvadalupe, nacionalnog amblema i kontroverznog simbola koji izražava meksikanizam. Slika Bogorodice iz Gvadalupe deo je popularne kulture Meksika i može se naći reprodukovana, reciklirana i adaptirana na šoljama, majicama, muralima, plakatima i, kao što smo otkrili u ovom filmu, takođe aplicirana na seriju votivnih tapiserija. Ugrađena u mrežu za tkanje tekstila, slika Gvadalupe postaje zgusnuta jedinica identičnih slika, ostavljajući utisak da bi se mogla gotovo beskrajno širiti. "Slika pripada narodu" odražava ne samo legendu i sujeverje u pogledu jedne slike, već možda prevashodno vreme koje je uključeno u proizvodnju tekstila i odnos između ljudi i mašina, magije i tehnologije.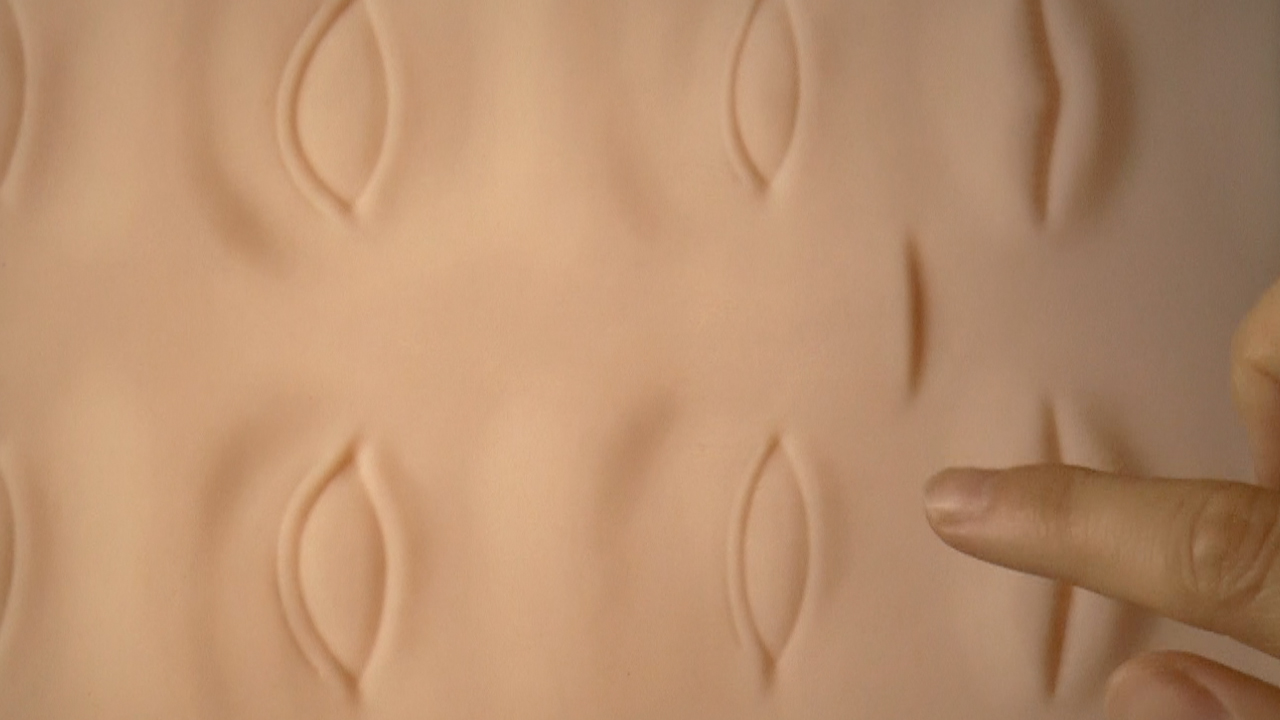 Cutaneous vision
Zorica Čolić, 4'15'', 2020
Cutaneous Vision is a video composed of material culled from the bewildering array of corporeal images – body parts, medical models, esthetic attachments and tools for bodily 'enhancements' sold online. The juxtapositions of human and human-like address material excesses and self-fashioning as a way in which bodies become alternately erased and fetishized.
RS
Cutaneous Vision / Kutani Vid je video sastavljen od materijala izdvojenog iz zbunjujućeg niza telesnih slika - delova tela, medicinskih modela, estetskih dodataka i alata za telesna poboljšanja koja se prodaju na internetu. Sučeljavanja ljudskog i antropomorfnog ukazuju na materijalne ekscese i modno samooblikovanje kao na način na koji tela istovremeno bivaju i izbrisana i fetišizirana.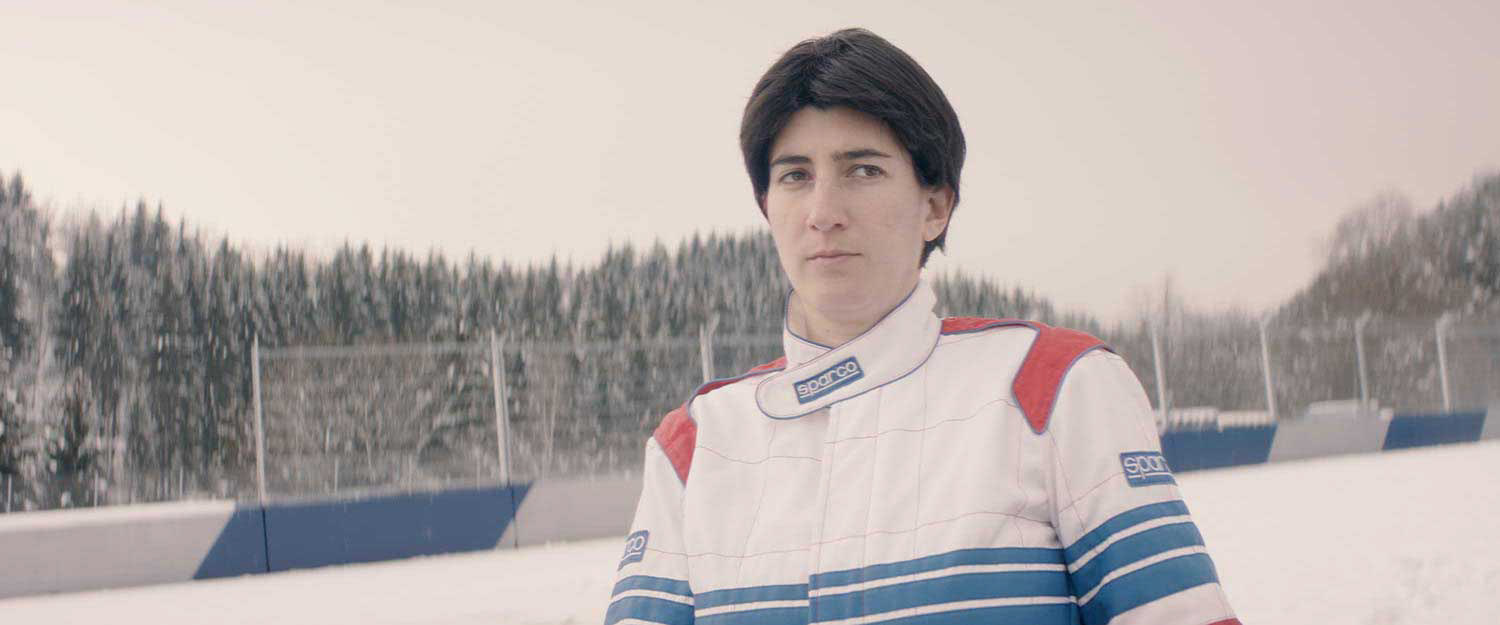 Lella (Rehearsal)
Katharina Swoboda, 3'01'', 2021
The last woman to ever race in a formula One Race was Lella Lombardi in 1976 in Austria. This work is about a woman observing Lella (or a ghost of Lella) on today's race track. Lella Lombardi was the last to hit the finish line, but at least she reached it.
RS
Lella (Rehearsal) / Lela (Proba) Godine 1976. povukla se poslednja žena koja se takmičila u trci Formule 1: U trci za "Veliku nagradu Austrije" italijanska trkačica Lela Lombardi poslednja je došla na cilj, ali je bar stigla do njega. Njeno najbrže vreme bilo je 1: 42,25 - ovo je ujedno i dužina planirane video instalacije. Sastavljena od snimaka koji prate kretanje kao i statičnih snimaka Red Bull Ringa i performerke koja predstavlja Lelu Lombardi, počast za sada poslednjoj ženi vozačici Formule 1 odaje se u ambijentu staze u Spilbergu, Austrija.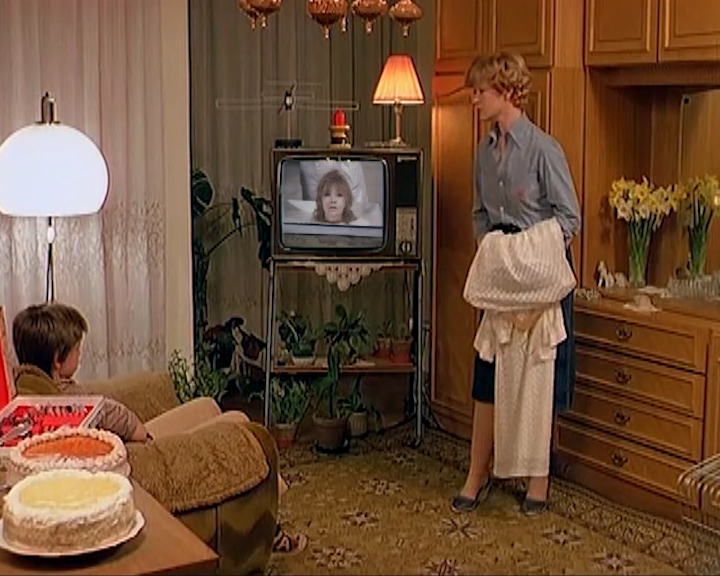 Comrade Woman
Doplgenger, 6'18'', 2018
Comrad Women Based on archival images from Yugoslav cinema, the film begins with words spoken by Milena Dravić in Dušan Makavejev's W.R. Mystery of the Organism. On the other side, marked by the patriarchy, the fragmented experience of the woman and her broken body will follow.
RS
Comrade Women / Kameradin je baziran na arhivskim slikama jugoslovenske kinematografije. Film počinje rečima koje izgovara odsečena glava Milene Dravić u filmu W.R. Misterije organizma. Sa druge strane, fragmentisano iskustvo žene i njeno raskomadano telo ispričaće drugu i isprekidanu priču.